Updated May 2020, we might be in lockdown but we can still enjoy a great BBQ. 
Any text like this is from the last version of the article, published in April 2019. 
As an added bonus, I've added a Vegan Lamb Skewer recipe at the end of the article. Enjoy! - Ben
Summertime is nearly upon us.
After what's been the mildest spring in many a year, you can bet the summer is going to be scorching hot, so what better way to enjoy it than with a few friends around the BBQ.
Now, you might think that BBQs are the domain of meat-eaters. The marketing certainly would lead you to believe that, with packs of meat made up specifically for BBQ season, but fear not, vegans can get in on the action too.
All it takes is a little thought and preparation, and you can have the perfect summer Vegan BBQ.

Gas or Charcoal?
This debate will rage to the end of time, but honestly, it doesn't matter. Some would argue even less so if you are not cooking meat, but I'm not sure I would agree with that.
If you want to just throw some food on a BBQ, cook outside and entertain friends, then you can't go wrong with a Gas BBQ. But if you want to experiment with flavours, searing, smoking and getting the most flavour out of your foods, then a Charcoal BBQ is the way to go.
If you really can't decide, Aldi now does a dual fuel BBQ for £149.99, one half is gas and the other charcoal, so you get the best of both worlds.
There are so many articles available on the internet that cover this topic, that I won't add more to it, but what I would say is that in my experience, you do need a large surface area and preferably a grill shelf/rack. We tried one of the fire pits that you can cook over, and while you will get edible food, the pain of getting it set up and trying to get the food cooked without burning is not worth the hassle over a conventional drum charcoal bbq or gas bbq. While the firepits are cheaper initially, for an extra £20/£30, you can get a decent BBQ.
For those interested, this is the one we use, the Gardenline Smoker BBQ from Aldi: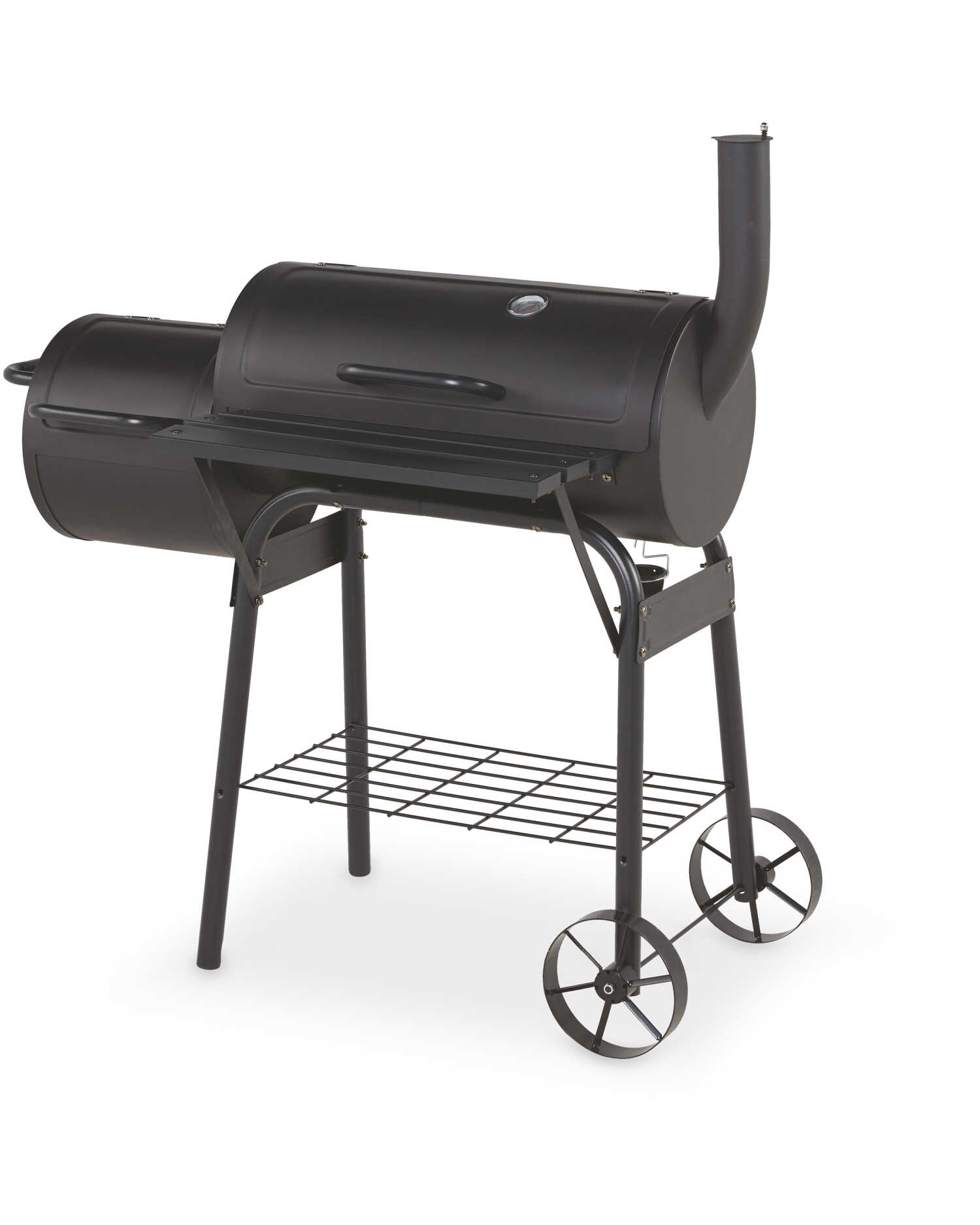 However, if you prefer Gas, then you cannot go wrong with the Outback Saracen 2 Burner, which I found for £140 at Dobbies Garden Centres website.
Vegan BBQ Foods
With so many meat replacements available now, having a vegan BBQ has never been easier.
Burgers
The Beyond Meat range at Tesco is seen as the premium option but I think this is because of the price point. Naked Glory, Linda McCartney burgers (widely available) and Vivera burgers all grill perfectly and smell sublime in the open-air, cooking away, and are much cheaper. The Mae's Kitchen 'No Beef' Burgers from Aldi are also nice (not as nice as their chicken versions mentioned later on) and are quite cheap too.
If I had to choose my personal favourite though, I would say it is the Plant Kitchen range from Tesco. 2 x burgers for £1.50 (as of May 2020) and they taste as good, if not better than many of the more expensive options.
Top them with some MozzaRisella (available at The Vegan Kind) Applewood Vegan Cheese available at Asda and your favourite salad and relish.
You can also combine your burger with the Easy Vegan Bacon recipe found elsewhere on this site to get that perfect bacon cheeseburger.
For chicken burgers, my go-to is the Mae's Kitchen 'No Chicken' Burgers available at Asda. The great thing about these is if you let them defrost, you can cook them on the BBQ without having to pre-cook in the oven. Combined with a grilled flattop mushroom, they taste really good with a dollop of mayo and some shredded lettuce.
Does your BBQ have a smoker? If so, for your 'red-meat' burger types, what I tend to do is to leave the burger topped with cheese and bacon to smoke for a short while to really add to the flavour.
I don't recommend any of the vegetable burgers for BBQing personally, but your mileage may vary. If you are looking for a good whole food burger that stays together on the grill, Katy submitted a great bean burger recipe on this post.
Sausages
For sausages… well, you are inundated. My pick personally is the Heck range available at ASDA and Waitrose, Meat Free Richmond Sausages available in lots of supermarkets or the Cauldron range available at Sainsbury's. There is also the Heck range which has a choice of flavours, such as the Super Green (made from quinoa and spinach with ginger, chilli and mint) or the Bollywood Bangers (cauliflower, lentils and spinach with green chilli and ginger).
However, I really cannot recommend the Richmond sausages enough. If like me, you've gone from eating meat to vegan with no in-between, you will be surprised at how similar to meat sausages they taste. They're not only good for the BBQ, I have them on Staffordshire Oatcakes with vegan Applewood Cheese.
For toppings, fry up some onions, jackfruit and chilli, smother over the top of your 'not dogs' and you've enough options to keep your guests well-fed.
Kebabs
What about kebabs? Well, you can't get any easier than Grilled Sriracha Tofu Skewers. In a blender, combine soy sauce, coconut oil, lime zest, lime juice, garlic, ginger, Sriracha and salt. Blend until completely smooth. Pour 1/2 cup of the marinade into a small bowl. Chop up some tofu cubes and put them on a skewer along with red pepper, bell mushrooms and tomatoes. Leave the skewers in the marinade for five minutes, then grill. Sprinkle some chopped parsley over the top are enjoy!
Desserts
Need something sweet adding to the vegan BBQ after munching on these amazing vegan alternatives? You can't go wrong with frozen smoothie ice pops. Just mix up your favourite smoothie, put them in an ice lolly mould and pop them in the freezer. Alternatively, check out some of the Learner Vegan dessert recipes, there's enough to keep even the most indulgent sweet-tooth happy.
Don't want to make your own dessert? Don't forget that Cornetto and Magnum now have vegan offerings. They are delicious!
But what to wash it all down with?
Vegan Summer Cocktails/Mocktails
Now we are talking. What better way to waste away lazy sunny days than with a drink or three?
Alcohol can catch a lot of learner vegans out. Unfortunately, there are some drinks out there that aren't suitable for vegans. But, we put together a quick and easy guide on vegan alcohol so you can have your favourite beverage at your vegan BBQ.
My personal recommendation for a cocktail is this amazing Watermelon Mojito put together on the My Darling Vegan blog.
Or, if you prefer non-alcoholic, Eluxe Magazine put together 30 mocktails they claim are better than booze!
For me, you can't go wrong with a good ol' Fentimans Cherry Cola and a splash of Jack Daniels Gentleman Jack, both vegan-friendly. Don't forget an ice cube or two!
BONUS: 10-Minute Vegan Lamb Skewer Recipe
I stumbled across this by accident when I was messing around making a lobby (stew) during the winter, and it works so well on the BBQ.
10 Minute Vegan Lamb Skewers
Ingredients
1

cube

Mushroom Stock

1

tbsp

Soy Sauce

2

tsp

Dijon Mustard

200

g

Dried Soya Pieces
Instructions
Boil up some mushroom stock in a bowl.

Add soy sauce and dijon mustard and mix well.

Leave to soak for 10 minutes.

When soft, add to skewers with your choice of mushrooms, peppers and tomatoes.

Grill on BBQ until soya pieces start to go crispy.
What's your favourite vegan BBQ food?
**Do remember that some (not all) of these products contain affiliate links, which simply means that we receive a small percentage of any sales with no extra cost to you. This helps to keep Learner Vegan running for free! We would never, ever recommend a product that hadn't been fully researched, tried and tested by one of us first. Giving valuable recommendations and advice is our primary goal. For our full policy click here.